So in case you didn't notice, Prima has a brand new challenge going on this year!
They are combining all 3 challenges into one big one! "Make it Prima"
I created this based on the mood board, and also have a full
start to finish tutorial on it, live on the
Prima Youtube channel
(<--- link="" p="">I have lots of tutorials and ustreams on their channel if you are interested :)--->
I hope you like my Princess gal! She was super fun to create!
I used tons of new products, and some older ones of course!
Any questions let me know! I always post to FB before I post here, so if
you want to stay up to date on happenings and classes and workshops, follow
me there to stay in the loop!
Also if you are interested in buying any of the products used, I have
a full list below and you can click on the pictures to hop right over
to Scrapbook.com and purchase them. xoxo
Prima's YT my video Link
Supply List: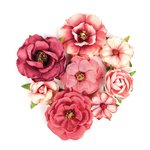 If you click on the pictures and buy any products (Most Prima is on sale right now! ) , I
get a small percentage of the sale at no extra cost to you. It would be much appreciated
of course :)
Thanks for stopping by, I hope you all have a lovely week! xoxoxoxoxoxo